Catherine Allen
The VR pioneer and director of Limina Immersive, a VR curation and exhibition startup and British Council partner, whose goal is to make VR more accessible, talks us through her reality.
Catherine Allen: 'I thought I invented Virtual Reality!' Image: Jim Johnston
What's your connection to the British Council?
We've just finished British Council a project where we curated a set of performing arts-related VR pieces for festivals in Madrid and Nairobi. We featured work from the likes of the National Theatre, Damon Albarn, English National Ballet and Metro-Boulot-Dodo – all of which showed off a different strength of VR as an art form. In Madrid the pieces were exhibited to the public in the beautiful Espacio Fundación Telefónica building over the course of several days. We have more collaborations with the British Council and Telefonica in the pipeline, the next one being a VR exhibition for Madrid Fashion Week.
What are you working on right now?
As well as our British Council work, we're currently curating VR for Encounters Film Festival in the UK and running a major research project into women and VR with Kings College and Brighton University. We're really passionate about helping VR, as a sector, be as inclusive as possible from the get go. It is such a powerful medium that it's important that the people creating and funding it are diverse and representative of the population. The industry is what we make it!
What/who originally turned you on to Virtual Reality/immersive media?
I thought I invented it! In 2014 I showed my colleagues my 'idea', which they thought was hilarious, as they knew it already existed and took great delight in telling me. My boss then playfully bought me a Google Cardboard when they came out. Those hours I spent immersed in my Google Cardboard were a real revelation – I couldn't stop thinking of all the artistic and educational possibilities for this new medium. I was really blown away – even though I was pretty much just doing roller coaster demos.
What has been your career high so far?
When me and my team at Touch Press (where I used to work) won a BAFTA for the iPad app we made with Disney, Disney Animated. And doing my TEDx talk last year probably comes a close second.

Watch Catherine's TEDx talk
What was your first job in the industry?
My first job was a Saturday job at my local computer shop, Melton Computer Centre, when I was 16. I built, repaired and sold PCs, and absolutely loved it. I learned a lot, not only about the basics of how computers work but also, as it was a customer-facing role, how the public interact with new technology, how it becomes a part of their daily lives.
What would you have done differently in your early career?
I'd have engaged with the wealth of academic theory and research around VR from the 80s and 90s sooner. There are some incredible thinkers from VR's first wave who have really inspired me and helped me get to grips with this new medium. This reading is a strong starting point for anyone planning on a career move into the immersive sector. Contrary to the truism in the sector that "there are no experts yet", I think there are absolutely VR experts – you just have to look back to its first wave.
What is your favourite British VR/AR piece?
As a curator I really can't choose just one piece! It's like asking a chef to choose their favourite dish. Right now I am interested in getting down to the basics in order to learn what the most simple and powerful techniques are for VR. I want to see pieces that strip things back and still create lots of impact. HelloEnjoy's Fantasynth is a good example of this type of work. It is so clever and simple. Every time I do it I come out giddy and buzzing.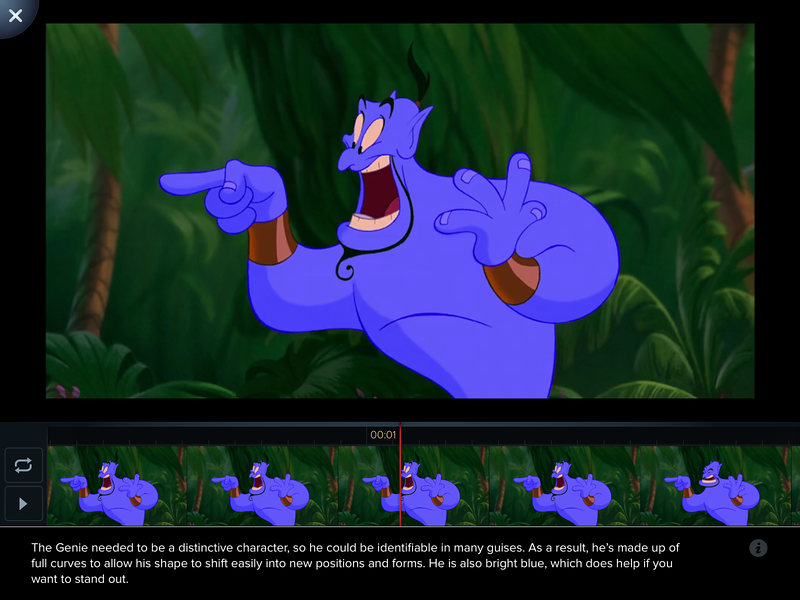 The BAFTA-winning Disney Animated app. Image: Disney Interactive
If you could have been involved with any VR/AR work ever made, which one would it be?
I am pretty content with the work I've been involved in – and very proud! However it would have been fun to have been involved in artistic immersive media in the 90s, for instance the legendary Brenda Laurel's 1994 multisensory Placeholder installation at Banff Center for the Arts. We think we are starting from scratch now, but really we are standing on the shoulders of giants, of visionaries such as Laurel.
What's the first VR/AR work you remember seeing?
The first pieces I saw were all a bit gimmicky. The first really meaningful VR experiences I did were at Sheffield Doc/Fest when I judged its interactive award. Brendan Walker's Oscillate, where you swing on a swing in VR and see the room around you crumble was hugely memorable. Scary and exhilarating, yet left me thinking conceptually about it a lot afterwards.
Who would you like to play you in the VR/AR film about your life?
Me! My academic background is theatre and performance studies; I'm sure that with a bit more training I could brush up on my acting skills and be ready to perform again, ha, ha!
Find out more about Catherine Allen and her work at her website.