Harry Lighton
2018 has see the writer-director take his short film Wren Boys to Sundance and the BAFTA awards. He chats to us about his life in film.
Harry Lighton: 'Steve McQueen rang up and I'd never heard of him'
What's your connection to the British Council?
They made it possible for me to get out to Sundance when my last short, Wren Boys, was selected. Flying to Utah isn't cheap, and it costs about £90 for a pack of Cheetos during Sundance. So without the British Council there's no way me and Wren Boys' producer Sorcha Bacon would've been able to make the trip.
What are you working on right now?
I'm cracking on with my first feature. The folk at BBC Films have been very kind in giving me the room to spend the last few months in that open, non-committal stage, teasing out the pros and cons of a bunch of ideas. But I now feel I've caught the big fish... so it's time to press on, put pen to paper, and start making decisions.
What/who originally turned you onto film?
I wanted to be a footballer. I 'got injured' (wasn't good enough), so I adapted and directed a Roald Dahl short story for the stage. The show hinged on a dodgy Zippo successfully igniting four times in a row. I remember kneeling off stage praying it wouldn't dick up. And when it didn't, I got a greater sense of satisfaction than I had from any penalty shootout. Later, I realised I preferred the subtler, non-verbal modes of communication offered by film. Then again, my first film was about a clockwork, violin-playing pig fiddling her way back through the decades, so maybe subtlety is a bit of a stretch.
What has been your career high so far?
There's a moment at the end of Wren Boys when the audience can get quite involved. At our Sundance premiere there was this massive collective intake of breath. After the screening one random man came up and chewed my ear off, while another stranger hugged me. Getting that kind of reaction to a film where we never tried to be provocative for the sake of it, made all the slog worth it. The BAFTA nomination was a pipe dream, but the biggest high definitely came from feeling that audience move with the film.
What was your first job in the film industry?
I manned the phones at a production company. Steve McQueen rang up, and I'd never heard of him. Very Devil Wears Prada.
What is a key piece of advice you'd give to someone starting off in filmmaking?
Make stuff for £0 with your phone and your mates until you've got a decent grip on what sort of performances an visual language you're after. When you're confident with that, do a proper short working with heads of departments who are more experienced than you. Don't be afraid of being green in comparison to those around you - working with a skilful core crew on my first budgeted short made all the difference.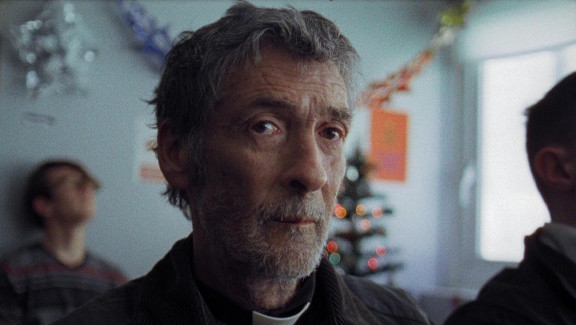 Harry's film Wren Boys

What is your favourite British film?
Steve McQueen's Hunger. After that aforementioned phone call blunder, I went home and watched it on a laptop not expecting much - and then stayed in my room rewatching it for a weekend. I've taken that film apart frame by frame, and there's exposition in all the details. The director and his collaborators are precise and decisive in their choices, but that precision feels like it's being created in the moment. Nothing feels stale. The result is challenging, honest and completely alive.
If you could have directed/been involved with any film ever made, which one would it be?
Not sure about ever, but two relatively recent films that make me jealous because they're so bleedin' good are We Need to Talk About Kevin and Raw. I'd love to have those films on my backlog.
What's your favourite line from a film?
"And it's a beautiful day", said by Marge in Fargo. What a way to reckon with a man who's just shredded a body!
What's your favourite scene from a film?
The post-title tracking shot in Girlhood. We've just seen this female posse dominate an American football field, and as they return to their estate and the wolf whistles start up, their chatter fades. Girls fall away from the group silently, until we're left with our protagonist. All the themes in the film to come are pre-empted in that simple sound transition.
What's your favourite screen kiss?
Johnny and Gheorghe's first proper kiss in Francis Lee's God's Own Country. I can't remember identifying with a character on screen as much as Johnny Saxby - the way that kiss communicated his opening the door to the possibility of something more than a quick, physical fix was inspiring. Then there's Pacino's kiss of death in The Godfather Part 2. I've got a twin brother. If he ever betrays me, he'll know his life's in danger when I try and smack him on the lips. But top of the pile for me goes to - spoiler alert - the Wren Boys lads, Seamus (Diarmuid Noyes) and Malky (Fionn Walton). They had no time off set to form a relationship, but there's a real lust and longing in that kiss. They smashed it on the first take. A few takes down the line, Fionn got his angles wrong and headbutted Diarmuid. But what's a shiner among married men?
Who's your favourite screen hero or villain?
Groundskeeper Willy. Poor chap was sidelined by Matt Groening, but I had a poster of him on my wall. One day I plan to direct a live action remake of The Simpsons centred on the groundskeeper, who would be played by Michael Fassbender with grizzled panache.
Who would play you in the film about your life?
I'd do a splice-and-stitch job. The face of Richard Madden; the physicals of Johnny Harris; the mind of Miriam Margolyes; the voice of Allison Janney. Not because I'm anything like the sum of their parts just yet - but who knows what'll happen - but because I feel that combo has the assets to cope with any future event life throws at me, so it'd be a decent biopic.