Zhannat Alshanova
The London Film School graduate and writer/director of short film End of Season, which was selected for the Cinéfondation section at Cannes 2018, discusses her professional life.
Zhannat Alshanova: 'After I quit my career in finance, I was desperate to find something that would make me feel alive'
What's your connection to the British Council?
When I was 10 I played King Lear's daughter in the New Year's Eve play at the British Council Kazakhstan! Also, the first English books I read were borrowed from Almaty's British Council library.
What are you working on right now?
As a writer and director, I am working on a short film prepping to shoot this summer in London. On the producing side, we are working on a feature called Whirlpool, directed by my collaborator Cem Demirer. We will go into production next year in Turkey so, while Cem is developing the script, I am working on funding applications.
What originally turned you on to film?
After I quit my career in finance, I was desperate to find something that would make me feel alive. One day I woke up with this completely crazy idea of becoming a film director. It seemed like a pipe dream.
What has been your career high so far?
I was lucky enough to meet so many very talented filmmakers and exceptional individuals during my studies at the London Film School and we collaborated on many projects around the world. I produced Hangnail, by Cem Demirer, shot in Turkey, and Birch, by Paisley Valentine Walsh, shot in the USA. I was also an associate producer of the feature film We Are Thankful, by Joshua Magor, shot in South Africa. In directing, my previous short The White Orchid Hotel, shot on 35mm, was selected by various festivals and premiered at Cameraimage.
What was your first job in the film industry?
One day someone I knew called me and asked if I wanted to work with some Americans on some film project. I said yes and the next morning a car picked me up at 5am and brought me to the Steppes, on the border of China and Kazakhstan. Later I found out that it was the first season of Netflix's Marco Polo. At that time, I didn't even know what Netflix was. My job was to help accommodate 500 crew members in the middle of nowhere. Four years later I returned to the same place to shoot my graduation film, End of Season, which has now been selected for Cannes.
What key piece of advice would you give to someone starting off in filmmaking?
Maybe this is how it will always feel, but it still feels like I am starting off. Regardless, I think persistence is the key, and also, being honest with yourself about why you want to make films.
What is your favourite British film? Why?
Fish Tank. The film is so vibrant and full of energy. Andrea Arnold has this incredible ability to build controversial characters without any judgements.
If you could have directed/been involved with any film ever made, which one would it be? Why?
I would say Claire Denis's Beau Travail. The film has so many beautiful layers and when I watch it, it makes me feel like I am daydreaming. I got the feeling that their shoot in the desert was like a parallel reality. I love when film locations intertwine with the story.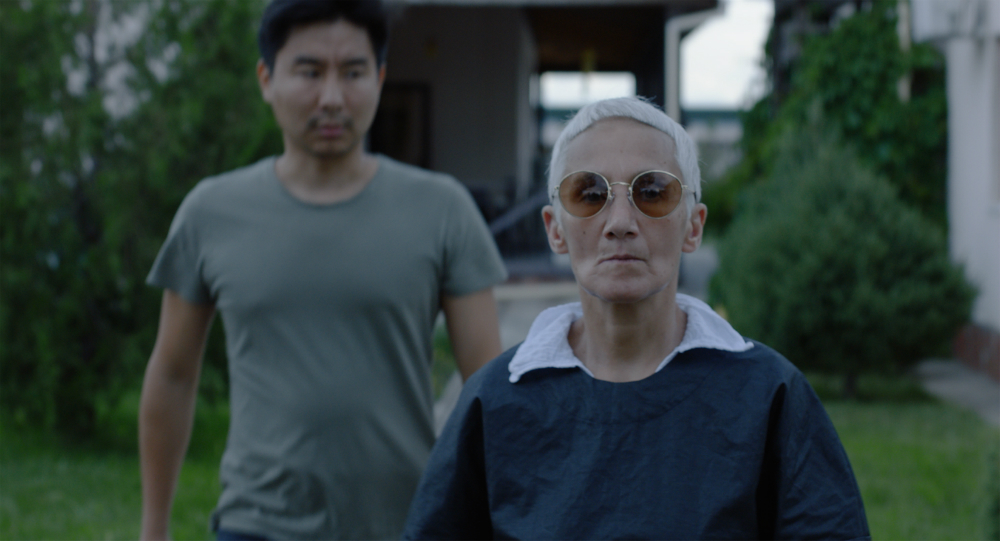 End of Season
What's the first film you remember seeing?
I was probably around six or seven and my mother brought me to the cinema. I think that was the first cinema that re-opened after the USSR collapsed. I was very excited, because I didn't know what the cinema was. We were supposed to watch Free Willy, but the screening got cancelled because nobody except us came. I cried so hard. Eventually we got to watch it and I still remember my excitement.
What's your favourite scene from a film? Why?
My favourite scene is the one from Nuri Bilge Ceylan's film Once Upon a Time in Anatolia. Towards the end of the film, there is a scene where the prosecutor speaks about a woman's unexplained death. It makes me think about all the small anecdotes that we tell each other that conceal the things we cannot speak of. I also love the scene after, where both doctor and prosecutor walk down the corridor – there is a dialogue between the two men which occurs without any words, it's just great.
What's your favourite screen kiss? Why?
The best kiss is the absence of the kiss in Wong Kar Wai's film In the Mood for Love. The whole film is so sensual, the desire comes from little glances and brief encounters.
Who's your favourite screen hero and/or villain? Why?
I am not a big fan of pure heroes and villains. I like mixed and conflicted characters – someone like Mildred from Three Billboards Outside Ebbing, Missouri who looks for justice while at the same time burns a police station.
Who would play you in the film about your life? Why?
I write characters who reveal something about myself. I would really love to work with Tilda Swinton one day.